LEED (Leadership in Energy and Environmental Design) is American system for assessing construction created by USGBC (U.S. Building Council Green).

Since November 2016, it is possible to register projects only in the latest fourth version of the system – LEED v4.
During the certification process, all elements of sustainable construction are taken into account, such as:
integrated design process
location and type of land intended for the investment
energy consumption
water consumption
quality of the internal environment
the type of materials used
innovation.
These categories are divided into credits for which a project can earn a given number of points. Credits can be divided into those whose fulfilment is necessary to obtain a certificate (Prerequisites) and those whose selection is voluntary (Credits). After the certification process, the project receives LEED certificate on one of four levels depending on the number of points obtained:
Certified
Silver
Gold
Platinum
Certification may cover existing buildings, new buildings and individual rental areas (shops, offices). LEED v4 is divided into several systems depending on the type of certified building.
Go4Energy specjalizuje się w następujących certyfikacjach:
New buildings – LEED BD+C (Building Design and Construction) for New Construction, Core and Shell, Retail, Hospitality, Warehouses and Distribution Centers
Existing buildings –  LEED O+M (Operation and Maintenance) for Existing Buildings, Hospitality, Retail
Leased space – LEED ID+C (Interior Design and Construction) for Commercial Interiors, Retail, Hospitality.
Go4Energy is a member of the USGBC. The team consists of people with LEED AP Building Design + Construction and LEED AP Interior Design & Construction privileges.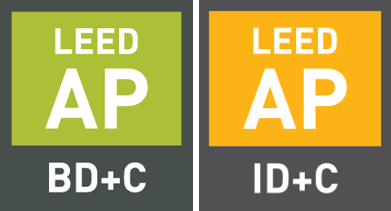 "LEED AP" and the related acronym, and the LEED AP logos are trademarks owned by the U.S. Green Building Council and awarded to individuals under license by the Green Building Certification Institute.
As part of LEED certification we provide:
The process is carried out by an experienced team fluent in English
Conducting the preliminary assessment
Advice on choosing the most appropriate level of certification
Project registration service on the LEED platform on-line with account administration
Active participation of a person with LEED AP privileges in the whole process
Verification of documentation prepared by designers and contractors to meet certification requirements
Conducting training in the principles of certification for the project team, project managers and contractors
Energy model development (EA Prereq Minimum Energy Performance and EA Cre Optimize Energy Performance)
Performing natural light analysis (EQ Cre Daylight)
Perform window view analysis (EQ Cre Quality Views)
Performing Life-Cycle Assessment (MR Cre Building Life-Cycle Impact Reduction) analysis
Conducting the Commissioning process (EA Prereq Fundamental Commissioning and Verification, EA Cre Enhanced Commissioning)
Contact – Agnieszka Rylska 517 500 718 Agnieszka.Rylska@g4e.pl