Wondering what the WELL Health and Safety rating process is like and what it involves? Then you have found the right place! In our article you will find the most important information regarding the WELL Health and Safety rating application process. If you'd like more details, feel free to contact our WELL experts!
The WELL Health and Safety Rating (WELL HSR) is an independent system designed for all building types. It was created in 2020 to support and promote organisational best practice, focused on increasing resilience to contemporary and future hazards including COVID-19.
It is a tool created by the WELL Building Institute, the same body responsible for the WELL Building Standard – now the recognised standard for building health and wellbeing certification. The WELL HSR can be carried out independently or in parallel with the WELL Building Standard.
During the WELL HSR process, the building is assessed against the following requirements:
Cleaning and sanitisation procedures (improvement of cleaning maintenance, reduction of touched surfaces)
Emergency preparedness plans (creation of an emergency management plan, provision of emergency equipment)
Health care resources (provision of sick leave, additional health services)
Water and air quality management (ventilation assessment, air and water quality monitoring)
Stakeholder Engagement and Communication (health promotion, food information)
Innovation (proposals for new ideas)
Each of the listed requirements contains one or more so-called WELL 'credits' that are obtainable upon submission of appropriate documentation proving that the project meets the requirements. Of the more than 20 criteria, the system requires at least 15 to be met.
The rating process itself consists of five stages:
Registration – at the outset, the desire to obtain a rating for a site or group of sites must be declared via the WELL digital platform
Verification of the attached documentation – after submitting the complete set of required documentation, you must successfully pass the verification of the documentation, the verifier may ask you to clarify or complete it
WELL HSR Report – after verification, the certification body produces a report confirming that the requirements have been met
Assign WELL HSR Rating – once the Report is accepted, the Rating is assigned and the WELL HSR rating certificate is obtained
Renewal of the Rating – in order to maintain the status of a facility with a rating, a fee must be paid annually and reporting and document updates must be followed
With WELL HSR, users can implement strategies that illustrate their specific needs and goals, with the ability to adapt their approach. It also assists in the effective development and implementation of plans to protect users from contemporary and future threats.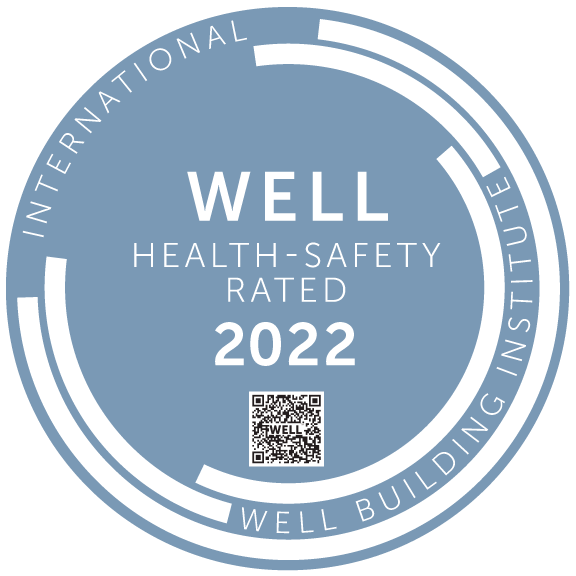 We look forward to working with you!